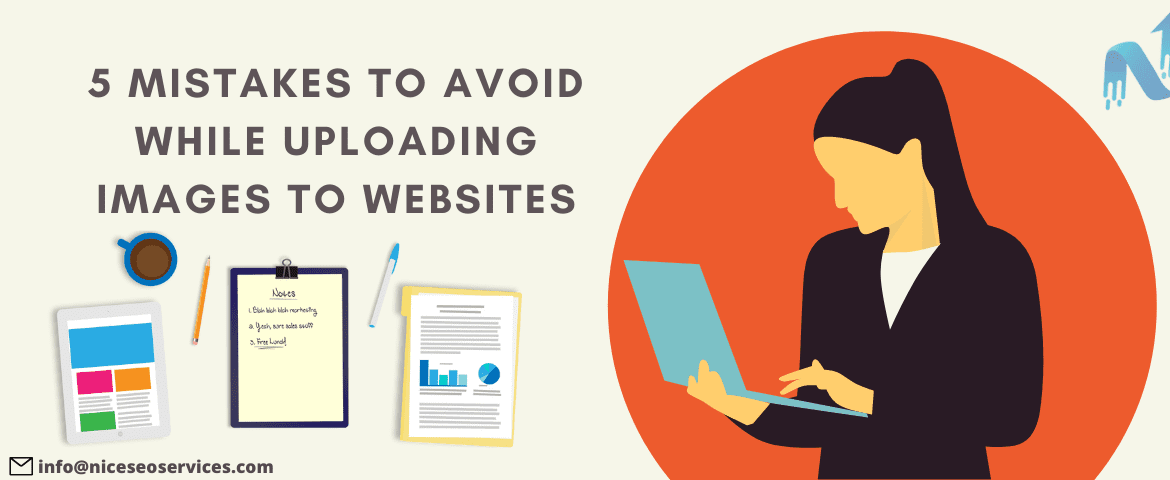 The image plays an important role in SEO which has been ignored by many. The image actually builds an image of your website in optimizing the web pages. No one is ready today to readjust the boring content even if you have covered the best details in your content. Therefore, never forget to post images on your website pages when developing a solid marketing strategy. We cannot deny the importance of images at the moment. According to statistics, articles with photos receive significantly more views than those without images.
Without a doubt, images are visually appealing and add a splash of color to your website. In this article, we'll go over 5 common mistakes to avoid when uploading images to websites?
1: Reduce the size of the image
The majority of visitors do not wait more than 3 seconds for the images to load on their laptop or desktop computers. When using their mobile phones, they do not wait more than 5 seconds. As a result, if your images take more than 5 seconds to load on these devices, you may lose a lot of potential customers.
How much image size need to upload on the website?
So, you must reduce the size of the images to a maximum of 700KB. Images will load much faster as a result, regardless of the device being used. There are plugins available on various CMS that help you to reduce the image size with intact quality with graphics.
2: Change the files name
Make no mistake about the significance of renaming your files. Using the default name for your images is not a good idea. In terms of Search Engine Optimization, you may want to include your primary keywords in the names of the photos. Aside from that, for proper optimization, you should write a description and include your primary keywords.
Search engine crawlers will not index your images in the database if you do not follow this practice. Image name should be related to what the image is speaking. For example: If you are showing MI television and you named it "TV" is a very generic name instead if you add the image name as "MI 42 inch television" this gives more specification to the image.
Do Read: How To select best Images for your Website
3: Include descriptions
Don't forget to think about the alt tags, just like you would with photos. They are primarily text-based alternatives to photos. If you want your website to rank higher in search engines, include an informative description. For all photos, the description should be in English. Also, don't overdo it with keywords or phrases, as this will harm your search engine rankings.
Need your website rank on top? Hire Nice SEO services, we offer you Search engine optimization that improves your site rankings and visibility thereby increasing the number of inbound inquiries. Our SEO optimization process is up-to-date concerning updated algorithm changes. When your website is visible to your prospective customers it is more likely to gain more attention thereby enhancing the marketing and branding of your products and services.
4: Use the appropriate file extension.
Make certain that your website contains the appropriate image files. You can now create images in a variety of formats to meet your specific requirements. However, the most common extensions these days are PNG, JPG and JPEG, and PNG. If you want your photos to retain their quality no matter how many times you edit and save them, PNG is the way to go.
5: Avoid using distorted images.
Another common issue that you may encounter when editing images is image distortion. Check that your images aren't stretched. You should always work with the original version of the photos you want to use. In Photoshop, you can use the preview feature to compare different versions of a photo.
"Hire a Photoshop team for image and photo management, We offer you various image handling services such as image editing, retouching, creating image compositions, website mockups, and adding effects. changes, designing, etc. Whether you require e-commerce product picture editing, photo restoration, or photo montage, we can help".
Nice SEO services provide you with search engine optimizations services in Mumbai – India and worldwide. We provide efficiency and value at affordable pricing. Each SEO professional focuses on strategic implementations to help you achieve your goals faster. Our team also offer image resizing and photoshop task such as image background changes and so on…