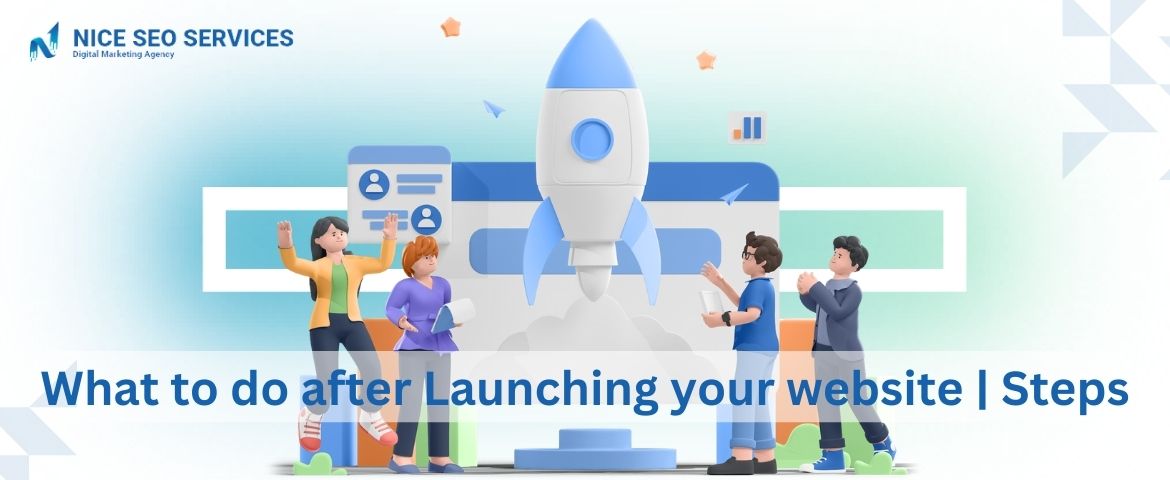 There are various steps that to be followed after you complete your website implementation. Web development is not the end of the task there are various other lists of methods and strategies you need to apply after you completed the e-commerce or business website. Just having a good domain name or a powerful design is not enough. There are many other things a web owner needs to do in order to bring reputation to the website.
The basic steps and method of implementing any website new website
You selected the platform
Understood either to go with a business website or e-commerce website
Purchased or created designed from existing themes offered
Added products and content
Launched the website
The above are some of the steps which are followed by business owners. And one might feel that the task is completed after the website is live. The reality is that the main task and duties start from here which is continuous in nature. Some of the steps you can follow
What to do after creating a website?
Changing the Images: Many times owners use the same graphics provided by the theme purchased and don't even think to change it or rename the images on your home page and internal pages. – Remember – The theme you buy has been used by many other businesses across the globe and if the same name of images appears you may face issues and penalization from search engines. Therefore the first step is to rename all the images provided by the theme or change the images as needed.
Addition of Content: Once you have renamed all the images now the website pages will be owned by you with your description and image name. After which you need to start working on the content of the pages. Adding old content for existing website migration is good – But new and fresh content will enhance the reputation of the business.
Social Media Pages:  Create your social media pages as it will help you to give you followers for the products and services you are selling. Crafting an SMM strategy is good for the long run but to initiate at least your social page such as Twitter Facebook LinkedIn Instagram should be created. This will help you to get started building links for your website.
Start with Local listings: Local listing is one of the great methods to start your website for local mapping – Google Maps directory listings where you can share the website and products and services which you are dealing with. The listing will also ensure you with link building which is an important aspect of SEO.
Setting up of Google Search Console & Analytics: You have the website ready but search engines should know and index your website. Indexing may take time based on the content but a good step is to set up a search console and analytics that will help you to understand the traffic and its sources on each and every web page.
SEO & On-page Optimizations: Just writing the content is not important – you need to ensure that the pages are optimized from an SEO perspective. You can hire an SEO agency for the same who can provide you with complete on-page optimization of your web pages. This will ensure you are on the higher rankings and improvisation.
Are there specific steps you need to take after launching a website?
From a website perspective, you need to ensure you have tested every button and page properly and also diverted the pages as needed. Images Menu items user friendliness etc. is important to ensure User Interface is easy. Before promoting your website to the world, make sure to test all its functionalities and features thoroughly to ensure everything is working as expected.
What to do after making a website?
One of the best ways to attract visitors to your website is by creating quality content regularly. You can create blog posts, articles, infographics, videos, and more to keep your website fresh and engaging. Keep Used of website analytics tools to track visitor behaviour, understand which pages are performing well, and identify areas that need improvement. Respond to comments and feedback on your website and social media profiles. Engage with your audience to build a loyal following and establish your brand.
 Keep your website up-to-date with the latest information, products, and services. Regularly updating your website will show visitors that your business is active and relevant. Remember that launching a website is just the first step in your online journey. To make your website successful, you need to continue working on it and promoting it regularly.
Should I do SEO before or after the website launch?
If your website is complicated it is better to test each and every function with respect to user interface and design. Once everything is proper you can start Search engine optimization of your website. Else; you can also start simultaneously the optimization process before the launch of the website. Although it is mostly recommended to implement SEO after launch indexing your domain may take time from Search engines.
About Us
Nice SEO services provide you with the launching of a new website with a brand new theme and also ensure the optimizations and all the above steps to ensure you start getting ranking within the search engines. We are located in Mumbai India and offer you website designing and development services. For more information – email us on info@niceseoservices.com
Continue Reading Other Blogs or Articles