In this article, we will explore the importance of link building in SEO, its benefits, and effective strategies for building a robust backlink profile. Search Engine Optimization is a multifaceted discipline, and one of its most critical aspects is link building. Building good link is the process of acquiring hyperlinks from other websites to your own. These links, also known as back-links, are a vital component of SEO strategies
The Role of Backlinks in SEO
Backlinks serve as the digital currency of the internet. Search engines like Google and Bing use them to determine the credibility and authority of a website. The fundamental idea behind this is that if other websites are linking to yours, it signifies that your content is valuable and trustworthy. As a result, search engines are more likely to rank your site higher in their search results.
In essence, back-links are like "votes" from other websites, and the more high-quality votes your site receives, the more likely it is to be considered an authoritative source in your niche.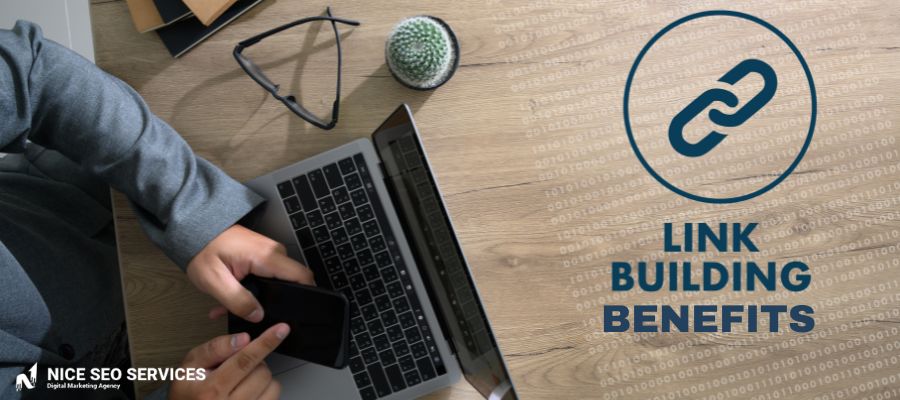 Benefits of Link Building
Improved Search Engine Rankings
As mentioned, search engines consider backlinks as indicators of your website's authority and relevance. When your site has a robust link profile, it is more likely to rank higher in search engine results pages (SERPs). Higher rankings mean more visibility and, consequently, more organic traffic.
Enhanced Website Authority
Linking your website from authoritative and relevant websites contribute to your website's authority. This, in turn, builds trust with both search engines and users. When users perceive your site as trustworthy, they are more likely to engage with your content and convert.
Increased Referral Traffic
It is not only valuable from an SEO perspective but also from a traffic-generation standpoint. When visitors on other websites click on your backlinks, they are directed to your site. This influx of referral traffic can be highly targeted and valuable.
Stronger Content Validation
Acquiring backlinks often involves other websites referencing your content. This is a strong validation of your content's quality and relevance. When numerous reputable sources link to your content, it reinforces your expertise in your field.
Effective Link Building Strategies
Now that we understand the importance of link building, let's explore some effective strategies to build a strong Link building profile:
Create High-Quality, Shareable Content
The foundation of any successful link-building strategy is exceptional content. Content that is informative, engaging, and shareable naturally attracts backlinks. Whether it's in-depth articles, infographics, videos, or research reports, focus on producing content that adds value to your target audience.
Guest Blogging
Guest blogging involves writing articles for other websites in your industry or niche. In exchange for your contribution, you can typically include a backlink to your own site. This strategy not only helps you secure valuable links but also positions you as an authoritative figure in your field.
Broken Link Building
This strategy involves finding broken (inactive) links on other websites and reaching out to the website owners to suggest replacing the broken link with a link to your relevant content. It's a win-win: they fix their site's broken link, and you gain a new back link.
Outreach and Relationship Building
Building relationships with other website owners and influencers in your industry can lead to organic backlink opportunities. Establishing genuine connections and offering to collaborate on projects or content can result in backlinks as a byproduct of those relationships.
Content Promotion
Even the best content won't attract backlinks if no one knows it exists. Actively promote your content through various channels, such as social media, email marketing, and online communities. The more exposure your content receives, the higher the chances of it being linked to.
Competitor Analysis
Analyze your competitors' backlink profiles to identify opportunities. If they have backlinks from specific websites, it's possible that those websites might be open to linking to your content as well. Tools like Ahrefs and SEMrush can assist in this research.
Challenges in Link Building
While link building is undeniably beneficial, it is not without its challenges. Some common hurdles include:
Quality vs. Quantity
Focusing on the quality of backlinks is more important than quantity. One high-quality backlink from an authoritative site can be more valuable than several low-quality links.
Relevance
Backlinks from websites in a similar niche or industry carry more weight. Relevance is a crucial factor in evaluating the impact of a backlink.
Ever-Changing Algorithms
Search engines regularly update their algorithms, which can affect how they evaluate and prioritize backlinks. Staying current with these changes is essential for successful link building.
Over-Optimization
Over-optimization of anchor text (the text used for the hyperlink) can trigger search engine penalties. It's important to maintain a natural anchor text profile.
Building Links of your website on other pages remains an integral part of SEO, contributing significantly to a website's search engine rankings, authority, and traffic. By implementing effective link building strategies and focusing on high-quality, relevant backlinks, you can improve your site's visibility and credibility in the digital landscape. As search engines continue to evolve, link building will remain a dynamic and essential component of any successful SEO campaign.
Continue Reading Other Blogs or Articles